Announcing 2018 edition of 3 woodcuts by Cordelia Williams
First carved and printed in the 1970s. I was an art teacher in the Philadelphia Public Schools and just beginning my adult family.
Edition of 10 prints each.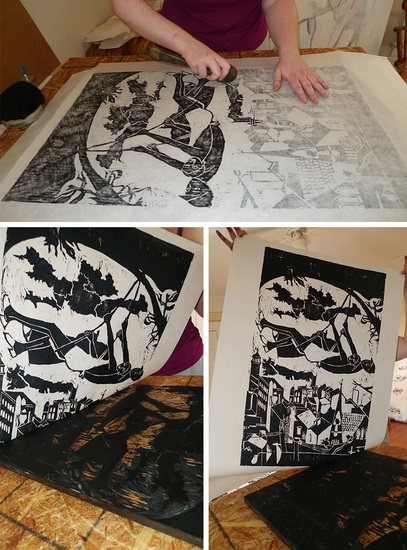 - - - - - -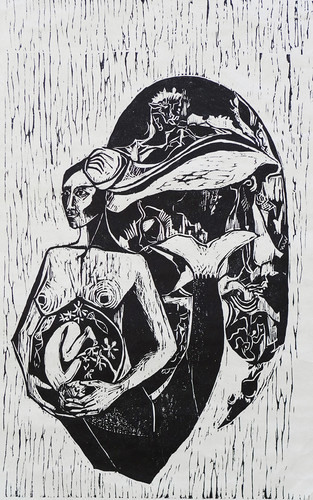 Pregnant Mermaid
oil ink on rice paper print, 26 x 15 inches
$500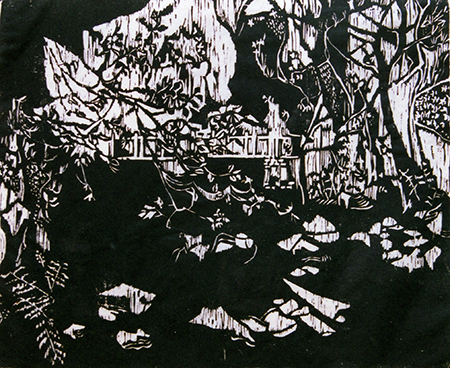 Wissahickon Woods
oil ink on rice paper print, 13 x 15 inches
$400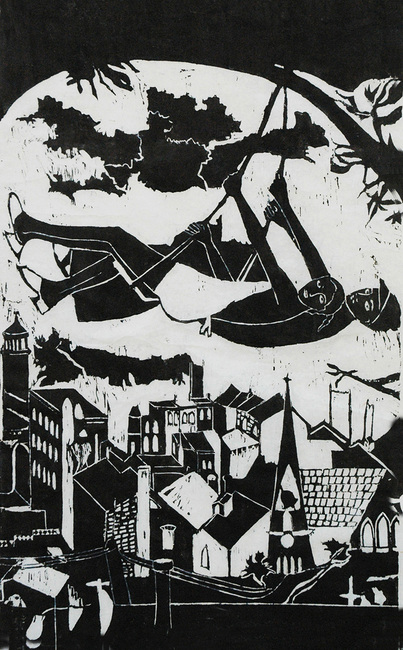 Philadelphia Swing Ride
oil ink on rice paper print, 30 x 18 inches
$800
- - -
There is a "Pregnant Mermaid" by Cordelia Williams that sits on the wall of my bedroom between me and the outside world. I gaze upon her every day as I get myself ready to face the music of the present. She reminds me of the most primal immediate bond in humanity; that between a mother and a child. It is a block print with a strikingly bold and contrasty composition of a mermaid pulling fractured parts into a whole much like the whole being growing inside her. There is a simultaneous sense of amazing self-containment as the protagonist mother pushes forward into the new — just in front of her. She is leading fiercely but with humility because she is holding, and holding something very precious as she breaks through the waves of the undiscovered territory. Like the masthead on a ship, her hair flows big into a landscape behind her as she floats confidently aware of her buoyant abilities and what she can provide, also symbolized by the vessel at her side and her more than adequate fin. The block print has the usual sensational contrast but her fractured parts seem to be splintering from the wood within, the grain that she was etched from. Over my ten years as a mother, I have owned this print and it has finally struck me a decade later — the mermaid is being born while she is birthing a new life and she looks all the wiser because of it. My mermaid, Cordelia's mermaid, is everyone's mermaid; an archetype of fearless regeneration. She hurls me forward through every day but reminds me to keep my own containment and dignity during whatever weather life provides. She is the balance necessary for the rich uncertainty of the present.
Crista Cammaroto
Independent Curator and owner of "Pregnant Mermaid"